Call Center: Urban Gateways in an Opportunistic Landscape
︎ Graduate Studio Three
---
ARCH 587
Spring 2020 ︎
San Diego

Instructor
Marcel Sanchez-Prieto


---

Work by M.Arch studetn Ryan Rosen


---

The design studio is based on designing a call center in Tijuana. In recent years, call centers have flourished in Tijuana as the next generation of maquiladora industry; a network space created by the archipelagic service companies who operate at the same time zone of the client, but in a different salary zone, working in a hyperspace of global capital while living in a transnational margin. The development of these companies can be traced to the growing number of deportees since 2009, and continue to be of significance with the current political climate. Call centers capitalize on the knowledge of English as a product, but most significantly, on the cultural wealth of deportees acquired during their stay in the US, constituting in most companies 90% of their employees.



---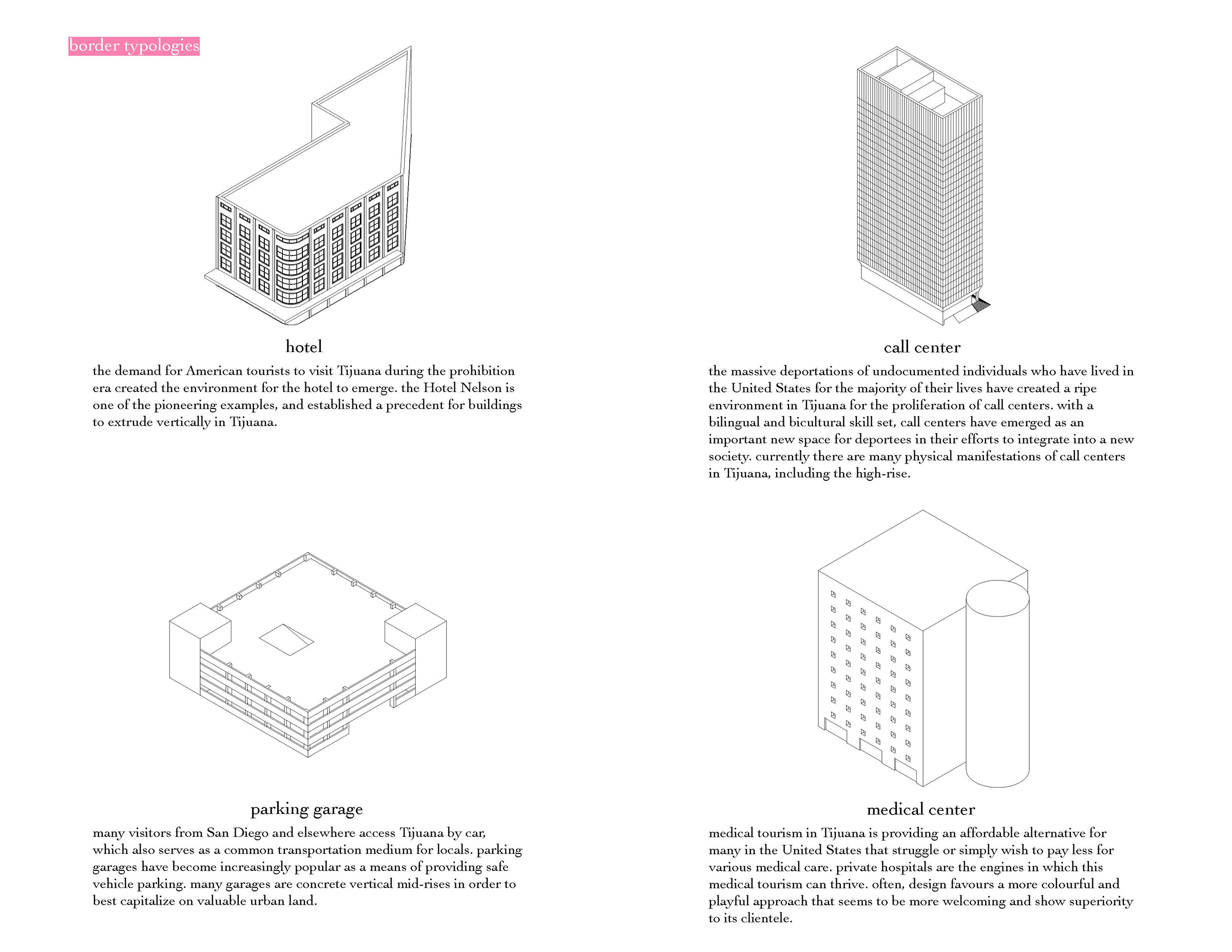 Work by M.Arch studetn Ryan Rosen


---

The projects inquire on what design frameworks the call center could be built, sustained and transformed. Considering it an urban gateway: an emergent participant in the construction of a border context, labor environment, and a possible agent of social outreach, to what extent can it absorb through the interior the programmatic interplay of society? Can the enclosure and interiority of this building typology be re-tooled? And what civic values can these scattered proliferated elements induce to the city?


---

Work by M.Arch studetn Ryan Rosen


---
Catalog Description
Systemic understanding of architecture is broadened through examination of the architectural object as a microcosm of an ever-expanding context, of a community or city as recycled. Building is introduced as infrastructure and infrastructure as intervention within ecology, land-and urban-scape, site and territory. Studio, twelve hours per week.