In the Thick of it ︎ Graduate Studio Two
---
ARCH 584
Spring 2020︎
Los Angeles


Instructor
Anali Gharakhani


---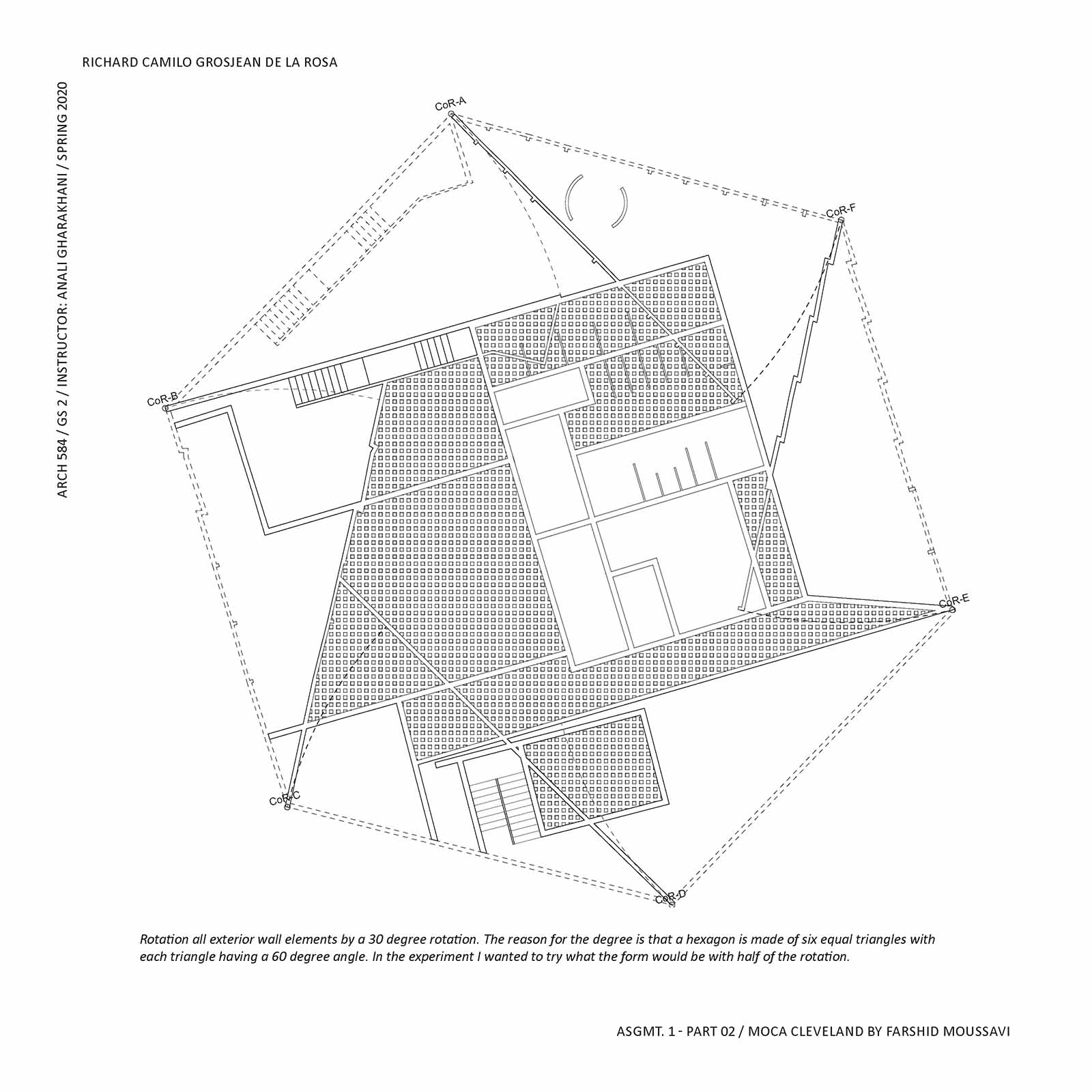 Work by M.Arch student Richard Grosjean


---

In architecture, poché is commonly used to represent mass. As an architectural convention it implies a threshold between spaces in addition to the availability of occupiable space or lack thereof. In architectural drawings it is often used to highlight thickness, structure, material or solid from void. Representationally, poché can aid the drawing's visual properties while alluding to tangible architectural conditions. Although poché as a drawing convention has a long-lived history, it often becomes an afterthought. A simple way to express fill. Canonical works of architecture, such as those drawn by Étienne-Louis Boullée and Andrea Palladio, use this convention as a design tool to configure spatial moments of thick and thin, identify differences and similarities between interior and exterior as well as imposing classical order. Many of these drawings were represented orthographically in plan, section and elevation but more importantly in axonometric and oblique views, highlighting important moments of poché.



---
Work by M.Arch student Meruzhan Karaptyan
---

According to Massimo Scolari, "the representation of depth is achieved with so-called parallel perspective, which we prefer to call oblique drawing. In its simplest form, oblique drawing sets two viewpoints side by side, dispenses with shadows, emphasizes outlines, and avoids those gradations of tone that suggest the corporeality of the third dimension." This studio will research and assemble conventions of technical drawings, plans, sections and elevations as means of representation to negotiate concept, content and context in the development of an architectural proposal.




Work by M.Arch student Garo Klian


---

Through these multiple representational modes, students will engage with the notion of activating poché by way of experimenting with thick and thinness. More specifically, we will engage with poché as four major devices: as fill, as material, as threshold and as program. This in turn will help articulate specific idiosyncrasies of inhabitation while investigating the potentials of unconventional thickness, spatially, materially and qualitatively. While general methods of manufacturing dimensional building materials often dictate the architect's design decisions and drive the client's budget, we will only concern our mission with proposing unconventional interventions that challenge these standard preconceptions. The studio will center around a single architectural program, an archive, as a site for organizational innovation. As the age of print-matter is dwindling with digitization of literature, the archive offers many auxiliary possibilities for an architectural disposition.



---
Work by M.Arch student Emily Rose Vanags


---
Catalog Description
Students are exposed to increasing complexity in architectural space through mining the conceptual organizing logics of design via cumulative exploration of modules and units. Programming, contextual and environmental prompts, regulating principles, circulation and urban networks, and systems of assembly become formative drivers through an investigation of housing (habits, habitats, and inhabitations).