World Architecture & Urbanism I ︎ Criticism 1
---
ARCH 240 | 554 Fall 2020 ︎
Los Angeles


Instructors
Ewan Branda
Jon Linton



---
---

Students were asked to create weekly entries in a sketchbook. These hand-drawn and hand-labelled sketches and diagrams encouraged students to process graphically the reading and lecture for that week. The goal was not comprehensive summarization but rather digesting and analyzing the material.


---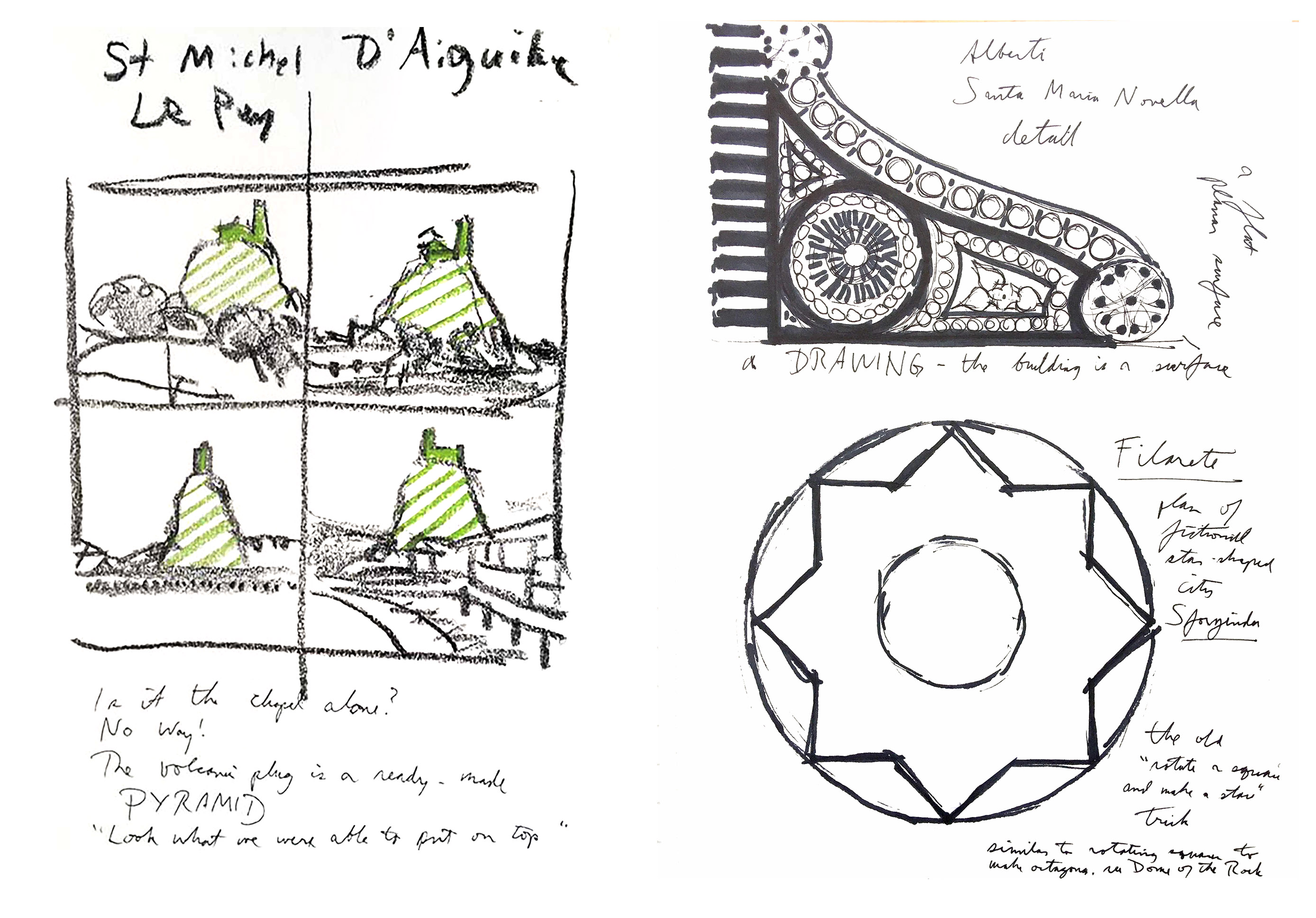 ---

Sketches focused on three aspects of the build environments we studied: form (geometry, organization, and shape of buildings and cities), inhabitation (functions, rituals, movement, and perception), and environmental performance (sun, wind, water, and other resources).

Diagrams are a crucial tool in the architect's toolkit, particularly during a period when screens were the dominant medium. These sketchbooks explored the potential of the diagram to analyze examples of architecture represented in other visual media and explain that analysis through concise visual codes.


---


A selection from the sketch books of students: Leslie Aguilar, Erhima Ahnoud, Nicholas Brito, Andrea Castaneda, Hakob Chagaian, Rebecca Covarrubias, Andrew Davis, Julian Dela Fuente, Mahdi Elayyan, Jessalyn Garcia, Sona Ghevondyan, Tatiana Hajjar, Rudy Interiano-Osuna, Zachary Jawharjian, Salam Khalil, Cassandra Kuba, Michelle Kurkjian, Saad Ladhani, Dara Elise Levardo, Ruben Manopla, Anashe Mirzakhanian, Elizaveta Nitenko, Andrei Joseph Paraz, David Petrosyan, Lizbet Romero, Elham Zare, David Zheng.



---
Catalog Description
A survey of the history and theory of architecture and urbanism in Western and non-Western societies spanning a chronological period from pre-history to the nineteenth century. This course traces history via focused explorations into diverse cultures, geographies, and places, examining many layers of historical time. When considered together, these explorations contribute to an understanding of architecture as a deeply bound discipline with components ranging from the artifacts of everyday life and ritual, to building traditions and practices, to the larger forces of geography and the design of entire cities. Analytical drawing and modeling exercises link representational media to historic comprehension.