THROUGH THICK N' THIN

︎ Studio Three



---
ARCH 201
Fall 2020 ︎
Los Angeles
Instructors
Anali Gharakhani
Eric Giragosian
Erik Carcamo
Sean Joyner


---
Work by B.Arch Student Thomas Gonzalez
---
Partially Similar investigated symmetry in architecture through a study of the part to whole relationships present in centrally planned architecture. Students began with the study of precedents developing and expanding their understanding of symmetry and polygonal geometry. In response to the Woodbury University School of Architecture's year of Housing, students used partial similarity to interrogate the modern notion of the unit in housing. In lieu of repeatable sameness, the class explored the partial similarity of centrally planned architecture as a means of developing novel solutions to the development the unit and its relationship to the whole. The parameters of centrality and polygonal geometry was used to structure rigorous formal experimentation. In lieu of extreme and endless variation, this studio worked within a set of equally extreme and clearly defined limits. As the third studio in the undergraduate sequence students were introduced to the discourse of geometry and architecture through the study of historical examples and its contemporary digital applications.
---
Site Plan by B.Arch Student Eloy Sanchez
---
In architecture, dense and porous often refer to material properties. While this is valid, materiality is only responsible for the construction of architecture, leaving much to be uncovered beforehand. The qualitative nature of a given material can lead to affect, atmosphere, light and shadow, spatial continuity and so on. Three specific qualities of transparency, translucency and opacity will lead us to engage with architectural density and porosity. As any given piece of architecture is physically defined by its interior and exterior boundaries, dense and porous thresholds control the union and separation of inside and outside. Basic elements like roof, floor, wall, window, and door reinforce the functional purposes of this separation. Students engaged with these elements but will dedicate much of our focus to the wall poché.
---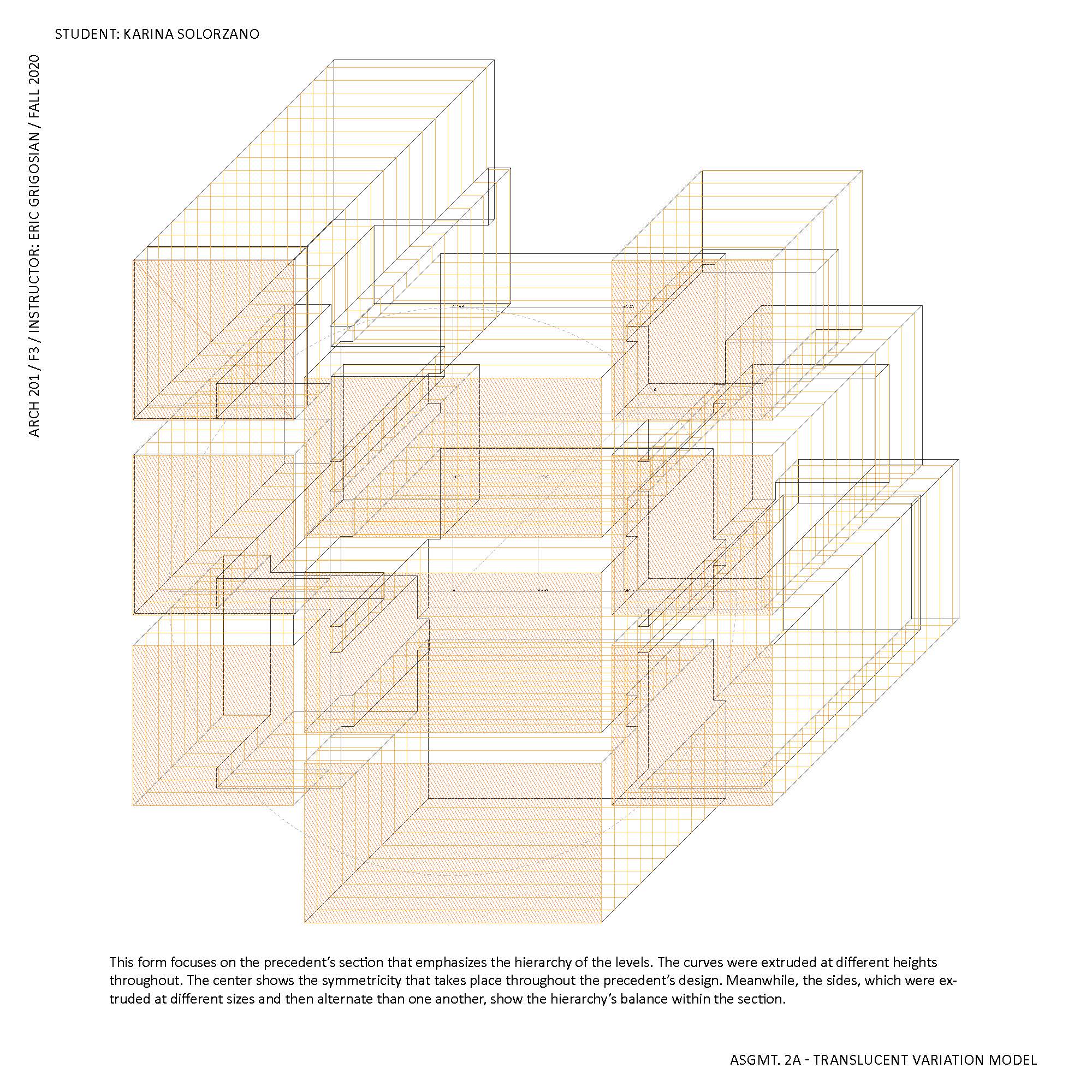 Fo
---
Poché is commonly used to represent mass. As an architectural convention it implies a threshold between spaces in addition to the availability of occupiable space or lack thereof. In architectural drawings it is often used to highlight thickness, structure, material or solid from void. Representationally, poché can aid the drawing's visual properties while alluding to tangible architectural conditions. Although poché as a drawing convention has a long-lived history, it often becomes an afterthought for the architect. A simple way to express fill. Canonical works of architecture, such as orthographic drawings by Étienne-Louis Boullée and Andrea Palladio, use this convention as a design tool to configure spatial moments of thick and thin, identify differences and similarities between interior and exterior as well as imposing classical order.




---
Rendering by B.Arch Student Jerrick Gemena
---

While continuing to emphasize fundamentals of architectural design and drawing, students encountered more in-depth digital modeling responsibilities and advance their overall digital skillset. Through multiple representational modes, students engaged with the notion of activating space by way of experimenting with thickness and thinness. This in turn will help articulate specific idiosyncrasies of inhabitation while investigating the potentials of unconventional thickness, spatially, materially and qualitatively. While general methods of manufacturing dimensional building materials often dictate the architect's design decisions and drive the client's budget, we will only concern our mission with proposing unconventional interventions that challenge these standard preconceptions. The studio will center around a single architectural program, a hideout, as a site for organizational innovation. As the Covid-19 global pandemic has enforced rapid change in ways of living, working and socializing, the hideout acts as a device for re-imagining future living conditions. The spatial divisions has been used as a means of limiting human interaction while providing optimal living and working conditions for multiple household units at once, indefinitely. Students developed an architectural disposition for a current and future state of the world in which physical access to resources are dwindled and scarcity is an ordinary part of day-to-day life.



---
Catalog Description
An in-depth analytical study is made of everyday domestic, work, and recreational rituals through written research and case study, with an emphasis on spatial accommodation of program through materiality, finish, structure, and form. Projects set in limited contexts emphasize the influence of internally driven relationships, with a special focus on hybrid programming.