Roofscape Urbanism ︎ Housing + Food: Interventions in the Urban Landscape ︎ Studio Eight
---
ARCH 489
Spring 2020 ︎
Los Angeles


Instructor
Anthony Fontenot
---

Work by B.Arch Students Patrick Castro & Chris Madrid-Gramajo


This studio will investigate a pioneering form of urban design referred to as "roofscape urbanism," a new approach to creating sustainable cities. The proposition regards rooftops as a valuable and underused resource and consists of shifting activities from the occupation of the ground to flat roofs of existing buildings to introduce various new programs including houses and farms. Each student will select a building in Skid Row as a site of intervention for a prototype rooftop sustainable urban village for 10 to 20 inhabitants. Charting a new direction for urban Los Angeles, the design of the model community will integrate sustainable forms of housing, production of organic food, and jobs, situated on a building rooftop, while highlighting the possibility of Roofscape Urbanismfor the 21st century.



---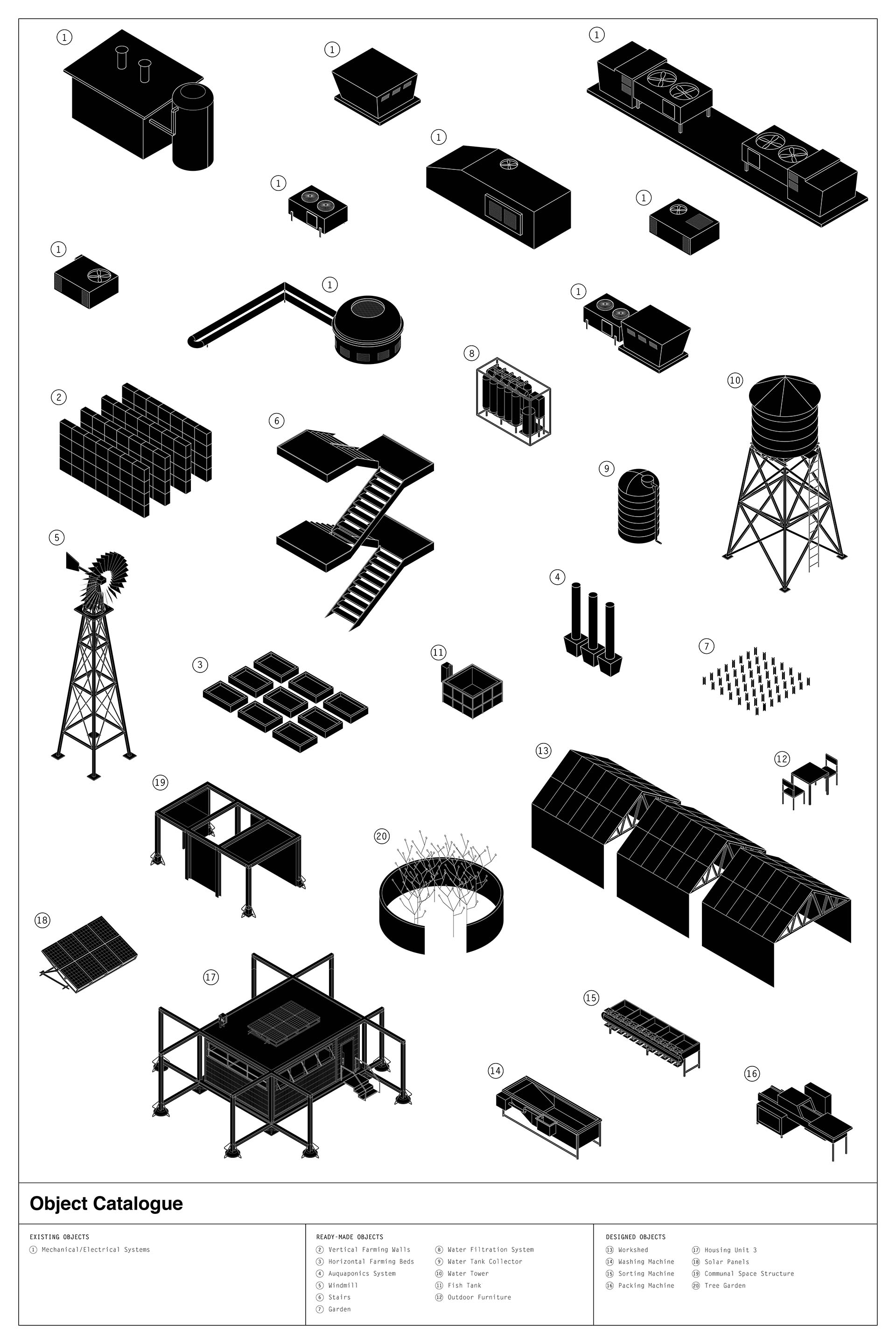 Work by B.Arch Student Matthew Negrete


---

Students are asked to create an innovative and sustainable urban vision for downtown Los Angeles. The site for this investigation will be the Skid Row neighborhood, an area that has long been challenged by issues of income inequality and housing shortage, with a fast-growing population experiencing interim housing. In 1976 city officials established Skid Row as an unofficial "containment zone," where shelters and services for homeless people would be tolerated. This studio proposes that in 2020 the city should now designate the neighborhood as an experimental "sustainable zone," envisioned as part of a new program that incentivizes building owners to allow community groups to occupy their rooftops with various new programs including housing and farms. The program should be created to offer mutual benefits to building owners and the rooftop occupants. This studio aims to offer comprehensive solutions to the homeless crisis in Los Angeles and in so doing transform one of the most challenged areas of Los Angeles into a thriving neighborhood. The goal of the studio is to design an alternative, sustainable, and affordable model of a small urban village based on low-cost and high-quality minimal housing units, organic farming, renewable energy, while offering jobs to the inhabitants.



---
Work by B.Arch Students Patrick Castro & Chris Madrid-Gramajo


---


Rooftop gardens and green roofs provide multiple benefits to the city including purifying the air, reducing ambient temperature, regulating the indoor temperature, saving energy, and promoting biodiversity in the city. It also provides rainwater buffers while offering opportunities for innovative water storage, recycling and management. In addition, occupying rooftops helps achieve the goal of increasing urban density. The research will be based on existing and proposed urban rooftop farms, as well as various new proposals incorporating cutting-edge vertical farming technology, hydroponics, and other sustainable models from around the world. We will also examine some of the key issues related to urban farming in contemporary design debates concerning climate change and sustainable models of development. Part of the challenge of this studio will be to simultaneously address multiple social and ecological issues: housing, food, and jobs, while designing a sustainable rooftop community integrated within the larger urban context. Envisioning that the initiative will be supported by a series of grants by the city, each rooftop village will work with non-profits, urban farming programs, and organizations that help the homeless to ensure the viability of the project. The shift from living on streets to rooftops raises fundamental social, political, aesthetic, and ecological questions that should inform the design explorations of an experimental and sustainable urbanism.



---

Work by B.Arch Student UlyssesHernandez


---
Studio Brief
In response to the lack of affordable housing and fresh organic food in the city of Los Angeles, students will develop planning strategies and architectural proposals for a small urban village situated on a building rooftop in the Skid Row neighborhood of Los Angeles. The newly designed community should provide spaces for at least 10 to 20 people to live, sleep, rest, work, and interact and should be self-sustaining. Each project should consist of small individual houses (not to exceed 350 square feet) and an urban farm, creating spaces where individuals and families can grow various types of fruits and vegetables. Various types of vertical and horizontal agriculture, including aeroponics, aquaponics, etc. should be explored. In addition, it should integrate sustainable energy technologies, allowing the village to produce its own electricity. The goal is to provide alternative solutions for housing, food, and job to help struggling urban communities prosper and thrive. The key challenge of the project is to integrate food generation, housing, and renewable forms of energy into a new communal urban typology.
---
Catalog Description
This course focuses the architect's leadership role in their community on issues of growth, development, and aesthetics through the study of urban design techniques and practices related to architecture and urbanism. A broad array of urban theories, tactics and strategies, building and space types, landscape and infrastructure design, and politics and policy making are explored through the dialectic between the private and public realms of the diverse urban culture.