Shed ︎ Principals of the Built Environment ︎ Studio Seven
---
ARCH 487
Fall 2019 ︎
San Diego


Instructor
Marcel Sanchez-Prieto


---
---

To understand the shed as a basic condition of shelter addressing fundamental premises of inhabitation is to reconsider the view and impact of architecture holistically. Questioning which modes of dwelling and architectural strategies of shelter could radically innovative designs that act with risk to change the way we act in our contemporary environment, understanding the work of the architect as part of a complex correlation of ambitions, interest and needs, defining new formats of action that renegotiate the relationship between living with the mediums that surround us.

Hashim sarkis as curator of the next Venice biennale in Architecture, calls on architects to think about spaces where they can live in company despite political divisions, the growing economic inequality and individualism; titled "How will we live together? Is no coincidence that architecture discourse finds itself at the crossroad of rethinking the role of design and the current challenges of our societies. We need to understand how to relate to each other, our environment and also be able to comprehend how to manage, act and strategize a more critical relationship with the sociopolitical circumstances that constantly are enacting our environment. We have lost the criticism putting technology and form before the social, social engineering before the value of architecture or environmental qualities at the forefront tagging projects with certifications. We need instead to renew an assessment and roadmap for interrelated civic, social, economic and environmental qualities, where architectural design could form a more integral part.

The right thing is not enough anymore. We need to question if we continue acting in the same way, we need to generate a point of inflection, we need to introduce a change of thought, agenda and practice, to create greater awareness and demonstrate to society the transforming power of architecture to our environment.



---
---

Issues at Stake & Context of Intervention:

At different moments in history of political disorder and social upheaval, like the construction of the Berlin Wall, the anti-nuclear movement, the protests against war, social inequality, migration and sustainable environmental goals occupy a prominent place in our recent history, key moments in history that make us reflect on prominent issues we are encountering as a society, pushing us to consider the values of what we want as collective of our environment, although very rarely we inquire on the value and the modes that architecture has been developed under such conditions, even lees what principals could fallow or pursue as protagonist of the built environment, very often is more a respond to standards and isolated concerns with limited notion of the value for generating formats of inhabitation . We will try to see within architectural terms how to debated and instill in the design of very specific architectural elements progressive thoughts that could questioned the status quo, we will revalue existing conventions and practices in various spheres of inhabitation while correlating to architectural proves.


---
---

In the context of California many cities are at a threshold of growing towards societies of isolation impacted by income disparity through specialized hubs of industry, planning regulations discouraging density to monoculture communities and segregation at the outset of land speculation. These issues have created a social filtering effect by the increasing cost of living and housing in a state that has accentuated isolated comminutes and the displacement of social groups. In San Diego land speculation combined with tourism has become the industrial base for economic growth, since growth control policies in 1972 state habitat protection plan in 1992 to more recent city greenbelt policies of urban containment and expanding services as Airbnb has elevated land speculation to a fine art. Addressing this years topic on housing we will work on more on overall understanding of inhabitation, trying to find another architectural perspective to housing in were we see dwelling more as a strategy for land dynamics, social platform of negotiation, economic opportunities and environmental paradigms.

---
---

Architectural Mediums of Operation

Revisiting the concept of the shed as universal space conceived within Mies approach and the endless expanding big box by Archizoom will be the inspiration for the studio, coalescing these two similar but opposing views of modernization, the shed as technical and highly calibrated condition of building and the shed as interconnected to the city absorbing through the interior the programmatic interplay of society, but also to provoke a comparison and critique.

What once was a utopia has become our reality to the pressures of the economy and fast proliferation of warehouses, distribution centers, convention centers, storage facilitates and manufacturing plants, usually not seen kindly as examples of good standards for city integration aggravating cohabitation of industrial and residential zones. We will try to override these commonly attributed failures with possible opportunities, the shed could be our source to explore an activated architecture to innovate spaces and spatial relationships, both interior and urban, formal strategies comprised of nested and movable chambers of programs, dynamic devices of essential inhabitation and the layering of structure and enclosure.


---
---

We will see this approach in similar tendencies to Tschumi le Fresnoy project where the universal roof is seen as an ultra-technology element housing all mechanical components to existing buildings below, while also being critical of the emphasis it has gained to what Koolhaas has termed junk space. Perhaps in some similarity to Cedric Price Fun House what we are looking for is to subvert the structure and systems as a fragile frame of a possible survival, where the positive take away from the shed resides in the recognition that has evolved to include a broad range of programs. but key factor is to revise now the shed (structure and envelope) are slower to change with the biggest lifespan of a building, usually ranging 50 years or more, while the interior and services change within 5 to 15 years, could then, this notion of the shed help strategize better adaptations to emergent needs that or society requires, maybe could be an alternative to temporary housing, immediate shelter for underserving social groups, cultural venues for underserved areas or when the greatest expense over the life of a building will be the interior formulate better efficiencies in the integration of systems to overlapping provisional programs in the life span of a building

We will develop the semester through the combination of three simple architectural elements: Shed, chambers and devices.

The shed: answers a primordial need architecture is called upon: give a shelter, starting with a neutral mute volume that will gain specificity to the relations of environment, negotiating aesthetic reasoning while evolves its functional aims.

The chamber: deals with the purpose defining programmatic needs and provide resources, through unique or multiplied in a series of floors, the chamber will respond more to a particular range of inhabiting while providing electricity, water, sewage system, climate control and all the services organized and disposed.

The devices: deal with tools useful for performing an action. Conceived as a human scale element placed in the chamber becoming a generator of micro environments and characterized by a define range of activities that can be used for.



---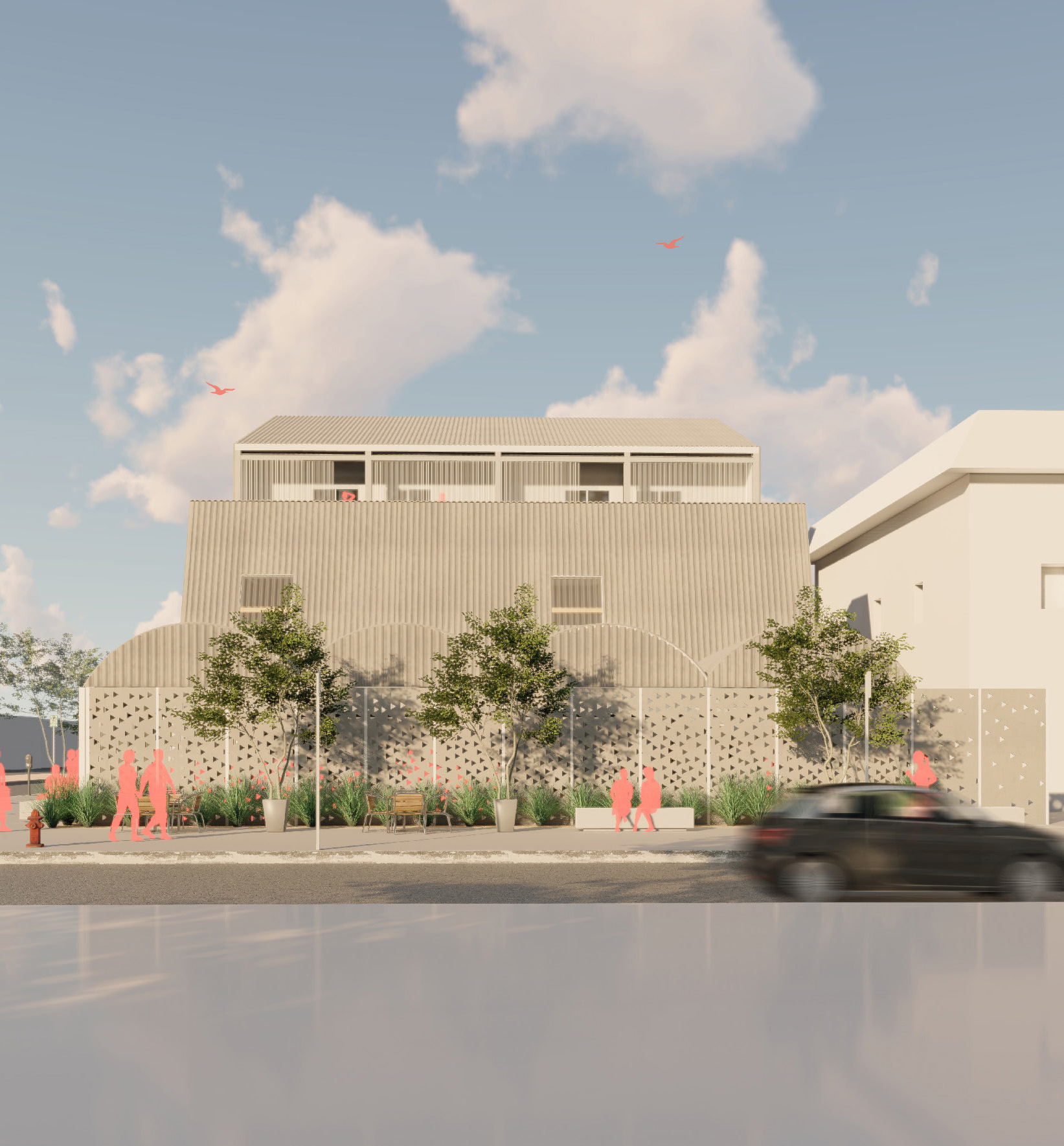 ---

Comprehensive Design Goals

Studio 4A is the Comprehensive Design Studio, in which students will develop a complex architectural project to a design development level that culminates in a highly-detailed documentation of their design. Each project is expected to incorporate the essential aspects of design – site, circulation, structural and environmental systems—with more detailed and integrated design decisions in terms of building envelope, building material and building service systems. The framework of the studio is rigorous in its effort to guide the student to this advanced level of development and the pace of the studio rapidly progresses from conceptualization to design development. Students' projects are expected to incorporate a technical level of detail and understanding, from codes and regulations, including ADA and life safety, to conventions of architectural documentation, including detailed drawings and specifications. The studio will make use of multiple methodologies of design in the visualization and development of the projects, incorporating projective and axonometric drawings, physical and digital modeling, and graphic representations.



---
Catalog Description
Students produce a comprehensive architectural project based upon a building program and site that includes the development of programmed space, demonstrating an understanding of structural and environmental systems, life-safety provisions, wall sections, building assemblies, and the principles of sustainability. The studio is open to fourth- and fifth-year students. The last half of the semester will be devoted to design development.